WORKSHOP 1 慢性疼痛的評估及治療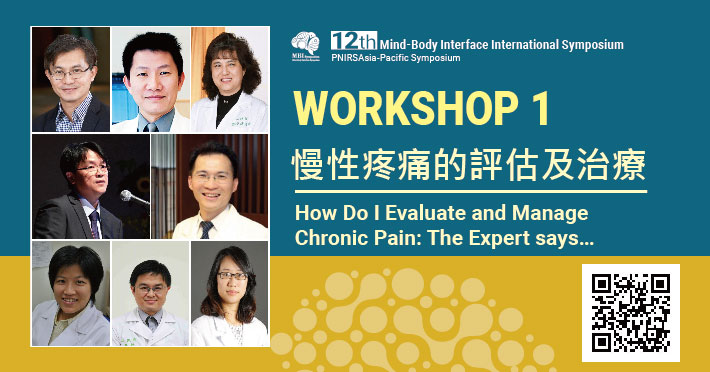 此教育工作坊是由蘇冠賓教授及溫永銳教授召集台灣在相關領域最專精的七位臨床專家,依據他們的專業角度,介紹他們如何評估及治療這些慢性疼痛病人,同時,更重要的是,如何整合身、心反應與疼痛治療,將病人的疼痛以全人看待,而不是單一的系統或解剖病變。課程以中文進行,提供最有效率與優質的教育訓練課程。本課程以線上學習、播放預錄影片的方式進行,大會活動期間學員能與專家主講人進行線上互動,課程結束後亦將提供醫事人員繼續教育積分及上課證明。
線上學習期間:

2022/10/20-2022/11/30

長度:180分鐘

召集人:溫永銳教授、蘇冠賓 教授

定價:

NT$ 3,000 (優惠價:NT$ 2,500,註冊主會議享優惠價)

​

講師與課程內容
Organized by Prof. Kuan-Pin Su and Prof. Yeong-Ray Wen, this educational workshop will be compiled by seven topics delivered by experts from Taiwan. In this educational workshop, we aim to provide a core curriculum on fundamental knowledge of translational research and clinical assessments and treatments for chronic pain.
Chronic pain and major depressive disorder (MDD) cause major clinical, social and economic burdens on patients and their families. The treatment cost of pain alone is equivalent to more than a fifth of the total health expenditure of developed countries, while MDD is a severe psychiatric illness with a high lifetime prevalence rate of up to one-fifth. Pain and depression are often comorbid: Approximately 35% of participants with chronic pain also had comorbid depression, while 43% of individuals who met the criteria for MDD also had a chronic painful physical condition (CPPC). In this presentation, I aim to discuss the interaction of depression-pain comorbidity, as the conditions often coexist, respond to similar treatments, exacerbate one another, and exhibit common biological connections, such as neurocircuitry, neuroplasticity, and inflammation.
The course will be pre-recorded and conducted in Mandarin. Only registered participants have the access to the lectures. Participants can interact with the lecturers for questions and comments at designated timeslots. After the course, certificate of attendance and continuing education credits will be provided.
Duration: 180 min

Organizer: Yeong-Ray Wen, MD, PhD. & Kuan-Pin Su-Pin Su, MD, PhD.

Date:

2022/10/20-2022/11/30
Price:

NT$ 3,000

Discount: NT$ 2,500 if purchased with main conference
(Each workshop may receive a

NT$500 discount

when registered

with

full conference)